Camp CMS is in Session and HMT is joining in on the fun!
July 28, 2021
Camp CMS is in session and Heart Math Tutoring is joining in on the fun! Camp CMS is a free, six-week, in-person summer learning experience for K-12 students. The students attend camp Monday through Thursday and are provided support in reading, math and science, plus physical activities and enrichment.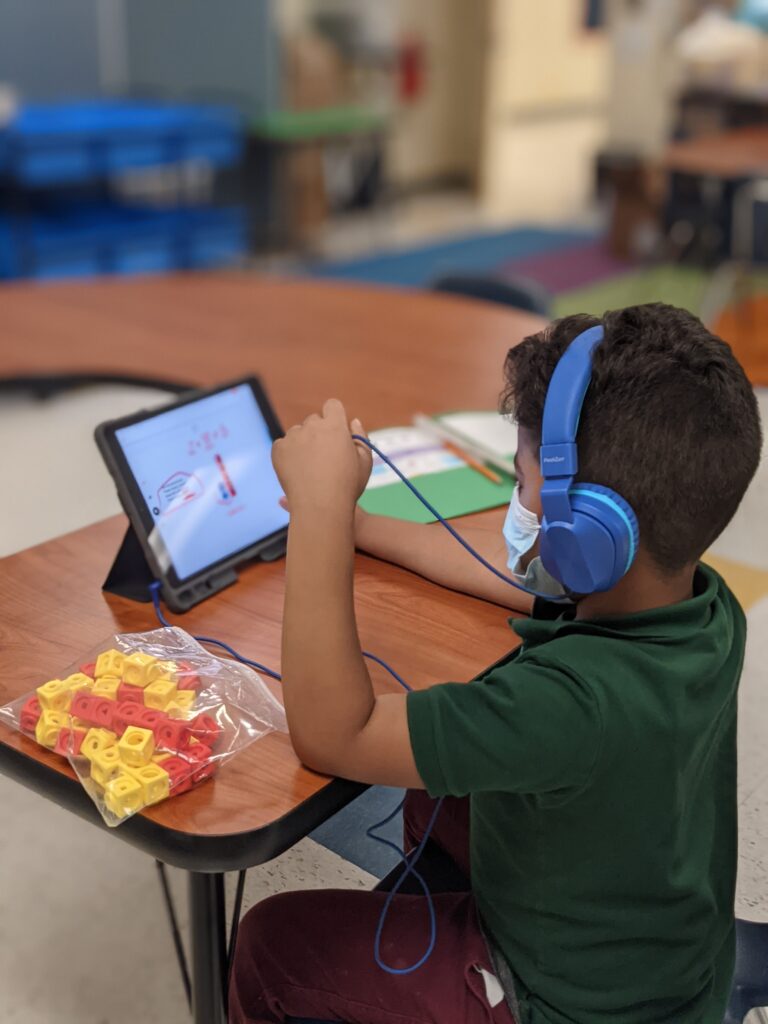 Heart Math Tutoring has partnered with Camp CMS to provide one on one math support for 1st through 5th grade students based in Sterling Elementary and Huntingtowne Farms Elementary. Our program coordinators are physically present in each of these schools to facilitate students logging into tutoring sessions to be tutored virtually by Heart staff and volunteers. Using our tested and proven virtual model, we have been able to tutor 38 students, all of whom are either returning from this school year or are newly nominated students for the 21/22 year!
The goal of Camp CMS is to address missed instruction and COVID-19 interruptions, aligning with Heart Math Tutoring's own mission to ensure all elementary students develop the strong foundation in math and enthusiasm for academics needed for long-term success. We have loved seeing how excited students are to attend their tutoring sessions, often stopping coordinators in the school hall to confirm if they would get to see their tutor that day. One student even reflected aloud during a session, "my brain is getting so big from all this math that I might fall off my chair!".
At Camp CMS, there is a particular focus on making learning fun for our campers! Each school week is assigned a different theme, starting with Shark Week and including a special Olympics-themed week. HMT added to the fun by providing each student with a special math bingo board to encourage attendance, participation, and using math at home. This board contains goals for students to accomplish and check off during their time at camp. Bingo squares include items such as 'I played a math game with number cubes', 'I passed a brain check today' and 'I have attended 6 tutoring sessions'. When a student completes five squares in a row, they are able to celebrate with a prize from our treasure chest!
In addition to celebrating the fun side of learning, partnering with Camp CMS has allowed HMT to fine tune our virtual tutoring model. We have gained valuable learnings into the logistics of managing virtual learning within a school setting. Having an on-site Program Coordinator ensures students get logged and have support with technology issues, allowing tutors to focus on their student and the curriculum. We have also been able to provide students with their own material kits to use during tutoring sessions in addition to the Jamboard options!
We have been delighted to see real progress with the students despite the short time frame. Over half of the students have completed a brain check, with one tutor recently commenting that "It has been great to see the students working on math skills this summer. In 1-2 sessions the students quickly grasp a new focus number and keep up the skills they learned during the school year!".
We have alsoreceived some great feedback from teachers! A 4th grade teacher, who has had students in HMT both during the regular school year as well as this summer, stated that "Heart really works," commenting that she was glad her students were lucky enough to have this opportunity over the summer.
It has been wonderful to spend time with our students this summer, building relationships with them and continuing to work on math skills. We are so proud of all their hard work and are excited to continue this progress in the fall!