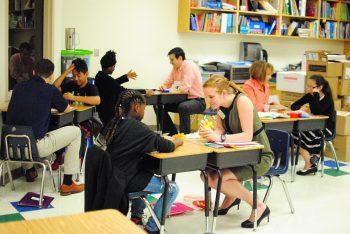 Heart Math Tutoring's mission is to ensure that all elementary students develop the strong foundation in math and enthusiasm for academics needed for long-term success, by helping schools use volunteers as tutors.
History
Heart Math Tutoring ("HMT") was initially piloted in 2010 by volunteer members of Social Venture Partners Charlotte who knew that volunteer tutors could make a powerful impact on students falling behind if given tools and support. The group obtained guidance from Charlotte-Mecklenburg Schools and Communities In Schools to identify curriculum resources and format. Over three years, volunteers tested the model while providing tutoring for over 200 students. The original name "HEART" was an acronym for "Helping Ensure Academic Results through Tutoring." With strong student results, positive feedback from schools and tutors, and a national need for math tutoring, Social Venture Partners (SVP) saw potential to formalize and scale the program.
Heart Math Tutoring became a standalone nonprofit in 2013 when SVP hired Emily Gaffney as executive director and established a Board of Directors. We partnered with two elementary schools to begin implementing the primary program model in existence today: a structured, targeted curriculum; dedicated on-site support from a Program Coordinator employed by HMT; and ~50 students per school in grades 1-5 receiving tutoring during the school day twice weekly.
Since 2013, the organization has grown to more than 930 students across 24 schools, thanks to school partners, more than 1,100 weekly volunteer tutors, and over $1.4M in support from the philanthropic community in the most recent year. Tutoring is free of charge to families; the program focuses enrollment on students who do not have resources to access private tutoring.
98% of more than 3,400 students tutored to date have made meaningful growth in math on program pre/post assessments, and over 90% of teachers consistently report that students are more confident and enthusiastic towards math as a result of the program.
Founding Board of Directors
Steve Beam, Barbara Bissell, Sam Bowles, Carla Hermida Clements, Michael Clifton, Anne Leggett, Emily Gaffney (ex-officio)
Founding Operations Committee
Andy Cooney, Nancy Covington, Susan Daniel, Minna Elliott, Martha Eubank, Catherine Fischer, Debbie Kemmy, Reid Leggett, Daniel Tanaka – all members of Social Venture Partners