Theory of Change
Heart Math Tutoring ("HMT") is the link between a huge, untapped pool of volunteers and the thousands of students who need one-on-one academic supports.
Students
51% of Charlotte fourth graders are not proficient in elementary math (2022 EOGs, CMS)
Many will fall further behind because of poor number sense
All can succeed with one-on-one, targeted instruction
Volunteers
Large, untapped pool of community members
Willing to help but need tools and support
Have limited time, and quality of past tutoring experiences may be varied
An urgent need….
Our community is missing out on significant potential when only 49% of Charlotte fourth graders are proficient in math (2019 NAEP). Without intervention, scores tend to decline between 4th and 8th grade, as course difficulty increases. This is often a sign that students relied too heavily on memorized math facts in early years rather than understanding how numbers work. Math proficiency is critical for academic confidence, high school graduation, and post secondary and career options. All students can learn to understand numbers with targeted, hands-on practice, but teachers have limited capacity to give students one-on-one attention and not all families can afford private tutoring.
…met with a powerful resource
Volunteer time is one of the only resources available to public schools that is not yet fully leveraged. HMT connects students with one-on-one, volunteer-delivered tutoring during the school day, free of charge to families. HMT's activity-based, structured curriculum and on-site staff support enables volunteers to be effective with a commitment of one hour per week and minimizes day-to-day work for school staff.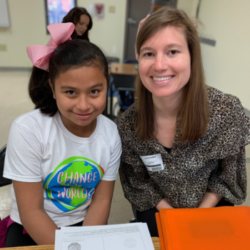 "Heart is the best use of tutors I have ever seen."
Kaneka Turner – CMS Elementary Math Specialist for Title I schools