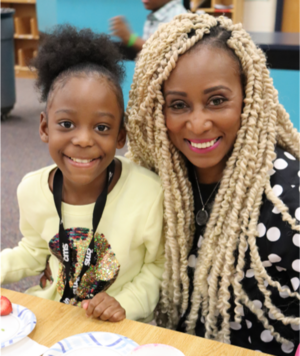 "Heart Math Tutoring involves tutors who ask students to think, and do, and discover math concepts which allows the students to develop number sense and a conceptual understanding of math. This type of tutoring increases retention and produces long-lasting effects."
Karen Fonkert, Ph.D., Mathematics Education, Charleston Southern University 
Expanding Math Support to Charleston Students
As of the 2021 South Carolina College-and-Career-Ready Assessments, just 55% of third graders in Charleston County School District meet or exceed grade level expectations math. By 8th grade, that number falls to 41%, leaving the majority students unprepared for high school coursework and postsecondary and career options. The onset of COVID-19 exacerbates the need, especially in math (January 2021 SC EOC Report).
Research shows that concrete, targeted experiences with numbers in the early years can close conceptual gaps and prepare students for algebra, a graduation requirement (Kathy Richardson, Thomas Carpenter). Tutoring has been found to deliver significant gains in rigorous, recent studies (Pellegrini M. 2018, Nickow A. 2020, Guryan J. 2021) and was recommended in the January 2021 report by the SC Education Oversight Committee. Teachers and families have limited capacity to provide one-on-one academic attention, but volunteer tutors can help.
Heart Math Tutoring gives young students successful experiences in math through one-on-one tutoring during the school day delivered by supervised volunteers. In each school, 50 students in grades 1-5 receive tutoring twice per week for 30 minutes. Heart Math Tutoring's activity-based, structured curriculum and on-site support from staff during tutoring enables hundreds of volunteers to be effective with a commitment of one hour per week and minimizes day-to-day work for school staff. Over 97% of volunteers rate the experience positive each year, and kids embrace the one-on-one attention, games, encouragement, and progress.
To date, 98% of over 3,500 students served have shown growth on pre/post assessments that meets the targets set by elementary math specialists at UNC-Charlotte and Charlotte-Mecklenburg Schools.
Comparison studies find that Heart students grow faster than non-Heart students in math on North Carolina End-of-Grade Tests and often retain gains into the subsequent year (see HMT Annual Report 2020, page 10).
Over 90% of teachers report that student confidence and/or enthusiasm towards academics increases because of Heart Math Tutoring.
A 501c3 nonprofit, Heart Math Tutoring grew to support over 20 schools and 1,000+ students and volunteer tutors in Charlotte, NC. A Charleston-based group of nonprofits and philanthropists are working to replicate the model in the Charleston region, where no math support exists yet at scale.
Support the pilot program and growth!
HMT is supporting ~25 students at CCSD's Ladson Elementary from January – May 2022, thanks to financial support from Coastal Community Foundation of South Carolina, John and Lynn Cooper, Martha and Eric Eubank, J. Henry Stuhr Funeral Homes, The Joanna Foundation, Pamela Levy, Scott and Donna Olsen, John and Alexandra Read, and Social Venture Partners – Charleston.
Join the effort:
Donate below to help secure $60,000 in additional donations needed by June 30th, 2022 to provide tutoring in two schools (100 students) in 2022/23.
Sign up below to be one of 120 volunteer tutors needed for 1-hour per week starting in September 2022.
Apply for HMT's new fulltime position in Charleston or share the Program Manager job description here with others.
Volunteer to help with other operational needs (volunteer recruitment, curriculum materials assembly, and more) by emailing emily.gaffney@heartmathtutoring.org.
Donate
Your support securing $125,000 by 6/30/2022 will launch Heart Math Tutoring for 100 students across two Tri-County Area schools in 2022/23, with opportunity to grow from there. To make a donation, mail your gift or enter your information into the online donation form below. After entering your information, click the "Enter Payment" button and the payment fields will appear. If there is a problem with the form, please email rebecca.presnell@heartmathtutoring.org.
Please make checks payable to "Heart Math Tutoring" and mail them to:
Heart Math Tutoring
PO Box 30623
Charlotte NC, 28230-0623
Heart Math Tutoring is a 501c3 nonprofit, and all donations qualify for federal income tax exemption.
Volunteer
In September 2022, 120 volunteers will be needed to reach 100 students in the 2022/23 school year. Volunteer tutors commit 1 hour per week and are paired with an elementary student who needs encouragement and hands-on activities covering foundational math skills (counting, addition, subtraction, etc.). Volunteers receive training, a volunteer-friendly curriculum, and assistance from an on-site HMT Program Coordinator who supports student growth and day-to-day logistics. No prior math or tutoring experience is required.
Volunteer Sign Up Form
Please share your availability in the form below to become a volunteer in the 2022/23 school year! Thank you for making a difference in the lives of elementary students!
Learn More
Contact HMT Executive Director Emily Gaffney at emily.gaffney@heartmathtutoring.org to learn more about the effort to bring math tutoring to Charleston elementary students and how you can help.
CHARLESTON STEERING COMMITTEE
Emily Gaffney, HMT Executive Director
John Cooper, Committee Chair, Social Venture Partners Charleston
Eric Eubank, HMT Board of Directors, Pamlico Capital
Karen Fonkert, Ph.D., Charleston Southern University
Marina Hart, Longshore Boats
George Hartley, Social Venture Partners Charleston
Scott Olsen, PwC (retired), Social Venture Partners Charleston
Wendy Sheppard, College of Charleston
Joseph Weston, PwC