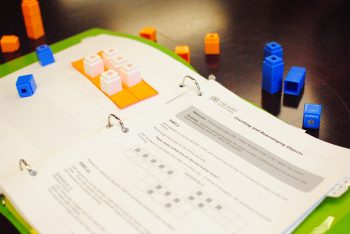 Heart Math Tutoring provides the curriculum and manages the tutors, enabling volunteers to effectively help students without creating additional work for school staff on a day-to-day basis.
Program
Heart Math Tutoring ("HMT") gives young students successful experiences in math through one-on-one, volunteer-delivered tutoring during the school day. Teachers and school leaders recommend students for the program who are performing 2-3 years below their grade level in math and may not have access to resources for private tutoring. We assesses each student to determine his/her individual instructional needs. Volunteers provide lessons at each student's level in 30-minute tutoring sessions twice per week using Heart Tutoring's structured curriculum. In addition to providing academic support, tutors act as mentors, providing encouragement that can have a positive impact on students' confidence and enthusiasm towards academics. In 2019/20, we served nearly 1,200 students across 23 school partners in Charlotte, NC.
The program was fully virtual for the first time in the 2020/21 school year, serving over 500 students. We are offering both in-person and virtual tutoring options for the 2021/22 school year.
Volunteers are effective within a commitment of one hour per week because of Heart Math Tutoring's curriculum and staff support.
Curriculum
CMS-approved, Common Core-based
Hands-on activities
Internally developed, specifically for use by volunteers
Targets foundational number sense skills needed for success in higher-level math
Aligned with pre/post assessments adapted with permission from Kathy Richardson's Assessing Math Concepts. Pre-assessments identify conceptual gaps of each individual student. Post-assessments measure student growth.
Program Coordinator – Heart Math Tutoring provides a dedicated staff member to each school where it operates.
Trains and coordinates volunteers
Communicates with school staff
Assesses and supports student progress throughout the year
Supervises tutoring sessions (virtual or in-person)
Heart Math Tutoring operates in partnership with Charlotte-Mecklenburg Schools (CMS).
Designed Collaboratively with CMS:
HMT was formed in partnership with CMS, who helped identify initial curriculum and assessment resources and paired the program with high-need schools and great principal leaders.
CMS curriculum specialists continue to advise HMT on curricular resources, student selection, and organizational growth.
We count on ideas from principals and school leaders for continuous program improvements, especially in the changing landscape and addition of virtual tutoring due to COVID-19.
Deep presence in partner schools:
50 students per school, grades 1 – 5
Quarterly reports updating teachers and families on student progress
Family education events prior to Winter Holiday Break and Summer Break
Resources provided to help families support student learning, including take-home kits, newsletters, and a resource bank