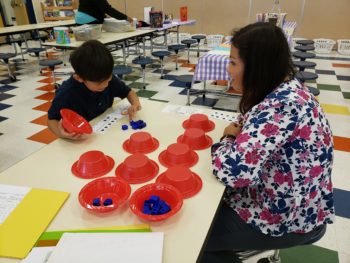 "The program requires nothing from me, but showed great benefit to my students. My students were eager to go with the volunteers each time."
Ms. Lamb, 5th grade teacher at Smithfield Elementary
Become a School Partner
Heart Math Tutoring is currently planning for the 2022/23 school year! Please review the planning resources at the bottom of this page if you believe the program is a good fit for your school. Fill out the 15-minute 2022-2023 Preliminary Interest Form to let HMT's team know that your school may be interested.
Our goal is to play an important role in our partner schools' math intervention efforts by strategically serving 50 students across grades 1 – 5 in each school. One of HMT's operating principles is to minimize work created for school staff. We provide the curriculum and manage the volunteers so that, on a day-to-day basis, no additional work is created for teachers and administrators. That said, for the program to be effective, important commitments are needed from partner schools.
Heart Math Tutoring needs from schools:
Access to students: Two hours within the school day during which students can be pulled for tutoring (students come 2x weekly for 30 minutes, see example schedules on Fast Facts below)
Space for materials storage and tutoring
Assistance in identifying students for program
Check-ins between Principal and Heart Math Tutoring staff in August, November, February, and June
Surveys and Feedback
Financial contribution (~20%)
Schools can expect from Heart Tutoring:
Students receive tutoring 2x per week for 30 minutes, from September – April
Streamlined communication to teachers regarding volunteer scheduling
Quarterly student progress reports
Heart Math Tutoring assessment results (October, June)
Family outreach preceding Winter Break and Summer Break
Heart Math Tutoring operates in a spirit of collaboration. We make every effort to understand the unique needs of each partner school and be a positive presence to the school community. We appreciate the support of and collaboration with CIS Coordinators, school social workers, office staff, and teachers to make sure we are collectively meeting students' needs.
Heart Math Tutoring's program was designed to be replicated and may be a good fit for additional CMS elementary schools.
Download these additional planning resources for potential School Partners:
2022-23 Preliminary Interest Form