Celebrate Ten Years and Counting with HMT!
September 19, 2023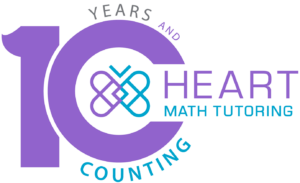 Heart Math Tutoring is thrilled to be celebrating our 10-year anniversary in 2023! Over 5,000 Charlotte students have received individualized math support and mentorship since 2013 thanks to support from Heart's dedicated volunteers, donors, and school partners.
Thank you for your ongoing support and your collective impact in helping Charlotte students have successful academic experiences. We hope that you will join us throughout the year to celebrate!
Heart Math Tutoring Welcome Event (Wednesday, October 25th from 5:30-7:00 PM at Midnight Mulligan Brewing) RSVP here
Keynote Speaker Event (Thursday, February 22nd, Location & Time TBD) Featuring My Mathematical Mind CEO and founder, Deborah Peart.
Year-End Celebration (Thursday, May 23rd, Location & Time TBD)
Check back here for event updates as we finalize details!