CMS Releases "Breaking the Link" Equity Report
March 2, 2018
By Heart Staff
Charlotte-Mecklenburg Schools released Breaking the Link, a 70-page equity report on school demographics, teacher qualifications, test results, attendance data, and more. This kicks off the district's strategic planning process for 2018-2024.
We applaud and thank the CMS Accountability Office for this endeavor.
"Any challenging effort for meaningful change must begin with acknowledgement of hard truths," the report says. "Thus, this report… seeks to provide a solid, data-based picture of our schools with the most recent data available."
While some of the "links" between race, poverty concentration, and outcomes may already be well-known, we wanted to pull a few data points near and dear to Heart's mission.
Math from Elementary to Middle School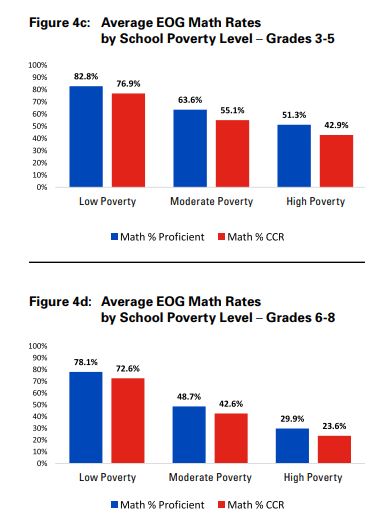 51% of Grades 3-5 students in high-poverty schools are proficient in math, and the rate drops to 30% during Grades 6-8. Low-poverty schools have math EOG proficiency rates in 78%-83% range during K-8. (Breaking the Link Report page 21)
–> Why does proficiency decline by over 20% in high-poverty schools, after more years of schooling? Is the math foundation weaker in high-poverty schools? Is reading a larger barrier to middle school math in high-poverty schools? Are there other instructional differences in math during elementary school between high and low poverty schools? During middle school?
Math I

In high-poverty schools, 86% of students who took Math I during grades 6-8 scored proficient! Unfortunately, only 32% of students who take Math I during grades 9-12 are proficient. That 86% proficiency rate is higher than the Math I proficiency rates in low- and middle-poverty schools in grades 9-12, as well. (Breaking the Link Report, page 21)
–> Math I is frequently an honors class during middle school, requiring students to self-select and qualify. Could we help Heart students be ready for Math I sooner, possibly improving their odds of passing above 31%? Both confidence and skills would be key ingredients here.
Graduation and ACT Scores
The ACT measures content mastery across English, math, reading, and science. Though 78% of students in high-poverty schools graduate from high school in four years (page 30), only 21% have ACT composite scores high enough for entrance into UNC system colleges. The minimum score requirement is 17, and the average in high-poverty high schools is 14.1. (Breaking the Link Report, page 27-28).
–> We must keep an eye on the concrete skills that individuals need to "lead productive lives" – borrowing from CMS visioning statements – and look beyond high school graduation rates to understand college or career readiness.
With thanks to CMS's Accountability Office and the project team for their work on this report, we close with their words:
"The next era of our district's evolution is to provide the excellence we offer in some schools to every child, preparing all students to lead productive lives. This commitment requires us to undergo consistent self-reflection and evaluation, and then act."
(All images are from Breaking the Link.)