Heart Tutoring Updates: COVID-19
March 16, 2020
Ways to Help:
Manolo's Bakery is making this time of social distancing fun for students who are celebrating a birthday. They are working with CMS and Ourbridge kids to bring them birthday cakes on their special days! Help them make a student's day by donating to The Cake Project. They are also offering the delivery of family meals.
SHARE Charlotte is offering a number of ways that local community members can give while at home to support local nonprofits. You can also shop for nonprofits and have items directly shipped to the organization.
New Opportunities Added 4/6
Pineville Neighbors is working together to collect donations for members of the community in need of food. Learn more about donation specifics and where to drop off or send donations here.
Block Love CLT is continuing to serve displaced community members by providing food and resources needed during this time. They are accepting supplies, food, and monetary donations. Learn more about donation specifics and where to drop off or send donations here.
New Opportunity Added 4/14
Feed the Front Line Charlotte is a non-profit organization dedicated to supporting hospital workers with fresh food from local restaurants. You can learn more about how the organization works and how you can get involved here.
Churches offering grab-n-go lunches: The Exchange Church, Simpson-Gillespie United Methodist Church, Nations Ford Community Church, St. Luke Missionary Baptist Church, North Davidson United Methodist Church, A Better World (Freedom Dr.), South Tryon United Methodist Church
A Better World Charlotte is collecting donations to help prepare and deliver (contact-less) meals to families in need. Learn more about their efforts here.
New Opportunity Added Added 4/28
Knights Care 4 CLT will help healthcare workers, select local charities, and Knights' employees who are in need. Find out more about their philanthropic efforts here.
Feed NC is collecting donations (monetary and supplies) to give to local community members in need. Learn more about how to make a Blessing Bag donation.
Learning Help Centers of Charlotte is helping families by providing 300 meals for children across Charlotte. Follow this link to learn about their efforts and ways that volunteers can get involved.
New Opportunity Added 5/5
Classroom Central list nine creative ways for you and/or your family to participate in remote volunteer opportunities. Find an opportunity here.
New Opportunity Added 5/26
Crisis Assistance Ministry's mission is to provide assistance and advocacy for people in financial crisis, helping them move toward self-sufficiency. If you are interested in learning more about their work and how they are serving over 1,000 families during the COVID-19 outbreak find out here.
Elevation Outreach has created a web page for community members to search for volunteer opportunities in the area. Find an opportunity near you.

If you learn of any volunteer opportunities to support our students and their families please email: volunteer@hearttutoring.org .
Resources:
We are sharing educational and food resources with our students and their families via our social media platforms: Instagram and Facebook. CMS is offering grab and go breakfast and lunches to children under 18 at their designated Meal Distribution Sites.
Families can visit our Family Page for resources and tips to keep their students' skills sharp while out of school. Check out our Spring Math Resources for ways to incorporate math into your child's daily life!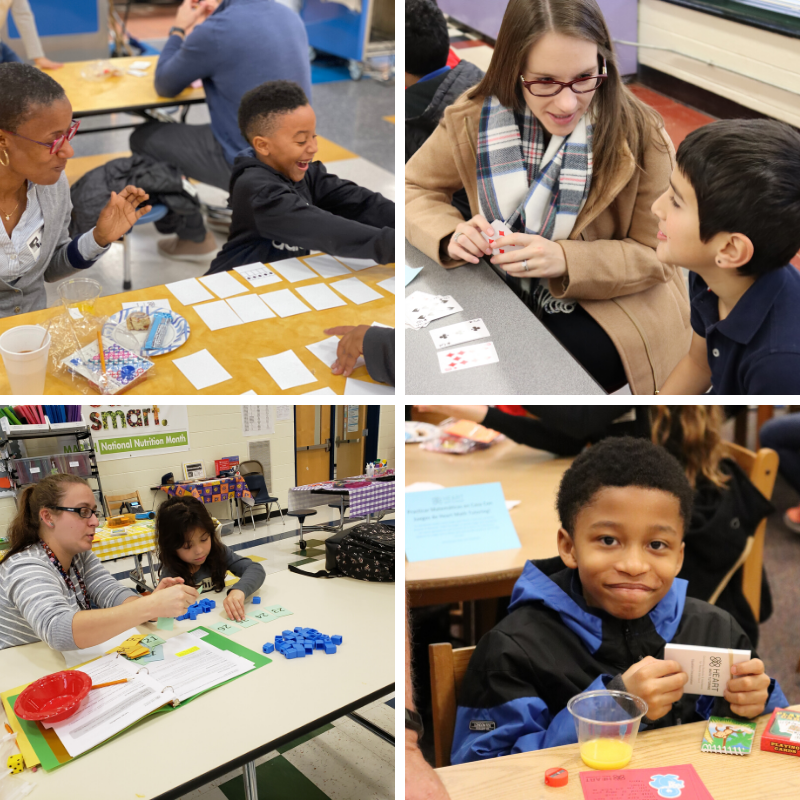 With COVID-19 now in Mecklenburg County and guidance from the state on best practices, Charlotte-Mecklenburg Schools are temporarily closed. This means Heart Tutoring's program in the schools will be paused until future notice.

We all care deeply about our Heart Tutoring students, and we thank you for your shared commitment to doing what is in the best interest of our students, families, and community in this unfortunate situation.

The impact that our tutors have made this year is incredible. As of this week, we have had 1,191 students and 1,330 tutors who worked together each week to strengthen our students' foundation in math and enthusiasm for academics. In the 21 weeks of tutoring so far this year, we have completed 28,313 sessions equivalent to over 14,000 hours of 1:1 tutoring!

We hope to be able to return to schools and continue working with students once the immediate emergency has passed. We will be in contact with current volunteers regarding programming as more details unfold.

Upcoming Events Postponed:
Our Resilience film screening scheduled for March 31st has been postponed. We will share a new date once it has been rescheduled. Find out more about other upcoming events on our Current Volunteers page.