Tutor Tuesdays (Happy National Volunteer Month!)
April 6, 2021
April is National Volunteer Month, and we are so grateful to all of our volunteer tutors for taking time each week to help students build math skills and confidence! This month, we'll be celebrating with "Tutor Tuesdays," highlighting a different volunteer each week. Be sure to check back every Tuesday this month!
April 27th – Connecting with the Community as a College Student
Sylvia Le
Sylvia Le is a student at Irvine Valley College and a first-year Heart tutor, working with students at Montclaire Elementary! Looking for a way to stay connected with her community despite quarantine restrictions, she researched volunteer opportunities online and found Heart Tutoring. A civil engineering major, Sylvia was excited by the opportunity to help elementary students improve their math skills and has enjoyed spending time with her students every week. "It's nice to get involved in the community after being home for a year. I have missed seeing other people, and after talking to my students I feel more alive!"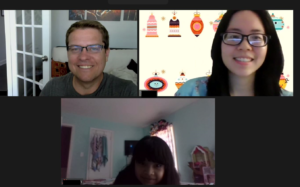 Although sometimes her students experienced technical issues during virtual tutoring sessions, Sylvia powered through these challenges and supported her students. "I can see their progress through the math problems they work on every week. Problems that were challenging one week were much easier for them to complete the following week!
Despite some of the challenges presented, Sylvia appreciates many aspects of tutoring students virtually. "My favorite part about tutoring is how the lessons are built. The Jamboards are very colorful and can stimulate the students' interest in learning math. I also like that students have materials at home, like cubes, to help them interact with the lessons." Sylvia also notes that the partner tutor arrangement has helped her become a better tutor herself. "My partner tutor is great and has the ability to engage and guide students, encouraging them to learn math. He's very good and I've learned a lot from him. Since I didn't have prior experience with tutoring, it was great for me to have him as a role model."
In addition to math, Sylvia enjoys building bonds with her students and getting to know them. "At the beginning of the lesson, we like taking a few minutes to talk about how their week has been and if anything new is happening in their lives." Thank you, Sylvia, for your dedication to students this year!
Pictured above: Sylvia with her partner tutor and student.
April 20th – Building Bonds Through Tutoring
Chevonne Burns and Shanese Brown
Every Wednesday and Thursday at 12:30 pm, Shanese Brown and Chevonne Burns log on for virtual tutoring to work with their 3rd grader from Bruns Avenue Elementary. Shanese is in her second year of tutoring, having tutored in-person at Bruns last year, and was excited to join again this year. Chevonne is a first-year tutor and heard about the opportunity through her employer, Bank of America. She felt that math tutoring would be a great fit for her finance background.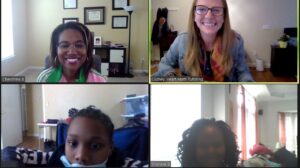 Having never met prior to tutoring, Chevonne and Shanese have enjoyed getting to know each other as partner tutors, including the fun fact that they both have twin sisters!
Shanese and Chevonne work with the same student twice per week, and they have loved seeing her progress over the past couple of months. "It has been a pleasure working with her; it's something I look forward to every Wednesday and Thursday. It has been great to see her grow in the program."
When asked how the virtual tutoring environment is this year, Shanese shared that she loves the tools and feels less intimidated in the virtual format. Chevonne loves how all the materials are provided including the lesson guide, video tutorials, and interactive Jamboards.
It is evident that both Chavonne and Shanese have built strong relationships with their student. "I come back each week for her. I would tell anyone if you're looking to do something meaningful and to have an impact, you should do this."
Thank you Shanese and Chevonne! We are so lucky to have you as part of our Heart family. Maybe next year you can get your twin sisters to join as well! 😊
Pictured above: Shanese and Chevonne with their student.
April 13th – Working from Home and Together
Kabao Xiong and Michelle Bennett
Friends/coworkers Michelle Bennett and Kabao Xiong have been tutoring since the Fall of 2019 and are current partner tutors at Myers Park Traditional! They first heard about Heart Math Tutoring during a community service committee meeting through their workplace, Cherry Bekaert. As far as tutoring in the virtual space, they admit it has been a slight learning curve, "mainly for us tutors since the students are better with technology!" they joke. (Something most of us can relate to!) Though the technology has been a new piece to learn, "We are grateful to still have the opportunity to be involved," they say.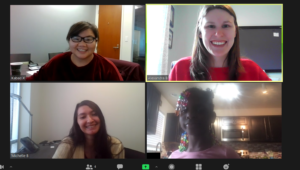 In addition to observing growth in math, Michelle and Kabao have also noted growth in their students' confidence. "We've seen the confidence level in our students grow and change. For example, at the beginning, one of our students wasn't comfortable with reading the word problems but now she's able to read them with little assistance." Michelle and Kabao have offered a safe, encouraging space for their students to learn and grow! When asked about their favorite part of tutoring, they agreed, "The students are always so happy and excited to see us week after week so that's a great feeling. They make our day!" Thank you Michelle and Kabao for being Heart tutors and for the support you have given your students this year!
Pictured above: Kabao and Michelle with one of their students.
April 6th – Tutoring Runs in the Family!
The Yale Family
Tutoring with Heart runs in the family! Husband and wife Alec and Emily, and mom Paula, are all tutoring virtually with Heart Math Tutoring this year. It started with Alec, who first heard about Heart from a colleague three years ago. He was able to get Emily involved and this year, Paula is logging in from Houston, Texas! Paula remembers Alec saying, "This is something you'll really love, mom." Once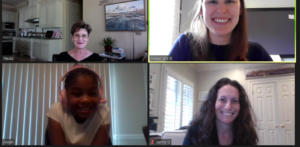 out-of-state tutors were approved to participate in the program this year, Paula signed up and says, "I really HAVE loved it!" All three Yales agree the technology can be challenging. "We found ways to work around [the issues] and the students are always incredibly resilient," says Paula. We all have experienced some technology hiccups this year and have been told the now-classic phrase, "you're muted" once or twice. Alec helps put it in perspective, saying, "I recognize these are challenges that students and teachers have faced on a daily basis this year, so I'm thankful to be able to provide solo tutoring and help students stay on track." Emily adds, "The virtual environment has encouraged students to learn how to verbally explain their thought process. Their confidence and ability to navigate the technology is constantly impressing me!"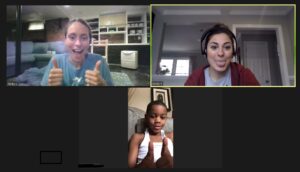 When asked about student progress outside of math, both Alec and Paula comment on their students' adaptability. "They have definitely grown and adjusted to all the technology demands. They have also learned to become more patient and more organized," says Paula. Alec states, "I'm continually impressed by our students' ability to adapt…This year's students have reminded me that all of us can benefit from being a bit more flexible." Emily has seen how her students are taking more ownership of the material and how this has empowered them. "I've enjoyed seeing them take on a 'teaching' role and using the Jamboard to detail each step of their thought process to explain an answer."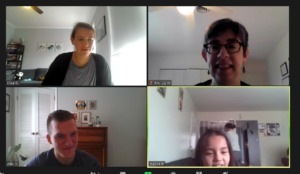 In a year of continuous change, we've all had to be willing to adjust. However, all these changes haven't taken away from what really matters: our student's progress! Both Alec and Paula's favorite parts of tutoring this year revolve around their students' growth. "The most rewarding part of being a tutor is seeing how excited students are when they pass a "Brain Check"…once they're given the confirmation that they'll move onto the next section, their faces light up and their sense of confidence is palpable," shares Alec. Paula remembers a particularly momentous Brain Check with her first-grade student; "I will never forget when [he] finally mastered the concept of "one less." Suddenly his answers all started with, 'well that's easy,' and he gave all the correct answers. We were all so excited for him!" Emily also remarks on the moment when students master a skill, saying, "Seeing their confidence grow over the course of a given concept is so rewarding, and I love when they get to the point of saying 'oh, that's easy,' or even acting like I'm the silly one for even having to ask how they found an answer!" We've all had challenges with technology this year, but we've all had especially rewarding moments as well. Thank you, Yale family, for your commitment to students this year!
Pictured above: Paula, Emily, and Alec with their partner tutors and students.