Westerly Hills Academy Becomes HEART's 5th Partner School
March 25, 2015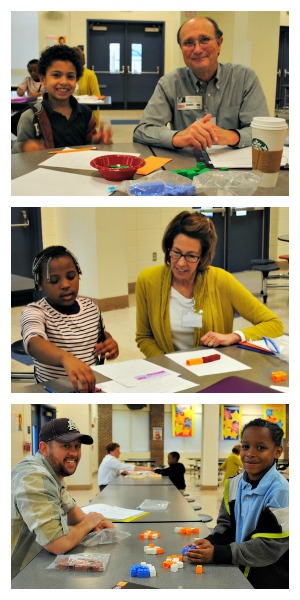 HEART Tutoring volunteers began working with 27 third graders at Westerly Hills Academy in January.
Westerly Hills, located at 4420 Denver Avenue in West Charlotte, is HEART's fifth Charlotte-Mecklenburg Schools partner school.
As the third graders face their first state End-Of-Grade tests, volunteers are focusing on filling in some conceptual gaps in number concepts. The tutors also help build confidence through mentoring and encouragement. The students are working on foundational number sense concepts ranging from the concept of "more" and "less" to decomposing numbers and understanding place value.
Of the 28 weekly volunteer tutors, 24 are members of First Presbyterian Church in Fourth Ward. Westerly Hills is First Presbyterian's public school partner for community outreach and engagement. The remaining tutors come from companies including Fifth Third Bank and Amec Foster Wheeler. Volunteers spend one hour per week delivering HEART's lesson plans and receive support from an on-site Program Coordinator.
"I am glad we can provide a way for Westerly Hills partners to engage as tutors and for Westerly Hills students to receive one-on-one academic attention and encouragement," said Emily Elliott, HEART's Executive Director. "It is a pleasure to work with Principal Gwen Shannon and Math Facilitator Stefanie McBryde. I am excited about the third graders' progress so far!"
HEART's other CMS partner schools are Billingsville Leadership Academy, Highland Renaissance Academy, Montclaire Elementary, and Winterfield Elementary.