2019 Math Perspectives Summer Institute: A New Resource Series!
August 6, 2019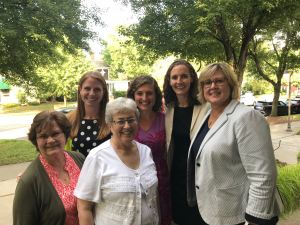 Earlier this month, we had the opportunity to join educators from around the nation in a week-long training with Kathy Richardson and the Math Perspectives professional development team here in Charlotte. We had the chance to collaborate and encourage one another in creatively and effectively serving our students. As we prepare for a new school year, we are excited to continue growing and strengthening our approach to math instruction.
While the training was geared towards teachers, much of what we learned can be implemented by a tutor at any level, strengthening the level of student support during the tutoring sessions.
We've summarized several learnings below and will expand on each topic in the coming months as we gear up for another great year of tutoring. Check back soon to learn more!
The Power of Curiosity
We know that children respond honestly when they believe that others are interested in what they have to say, and we know that our students can intuit whether we are pushing for a specific answer or sincerely interested in their thinking. In order to help our students remain inquisitive about the world of math, we need to stay genuinely curious about their learning! Let's shift our questions away from, "And what did you get?" to, "How did you get there?" If we stay inquisitive about math, our students will too!
Get Out of the Way!
"We have to get out of the way of a child's learning." Kathy continued to return to this theme all week, consistently emphasizing the importance of discovery and exploration in a child's development of authentic math understanding. It makes sense, right? When we think of our own mastered skills, how did we get there? In most cases, we gained mastery through our own individual experiences. We need to give students those same opportunities, allowing them to explore which strategies work the best and make the most sense.
Defining Mastery
What does it mean to master a skill in math? Kathy explained that true mastery looks like a student using a skill, internalizing it to the point that he or she won't forget it over the summer. She encouraged us to, "Keep practicing until they can do it no matter what, no matter where, no matter when." Ultimately, we want our students to be able to make sense of numbers and move through the world of mathematics flexibly, efficiently, and accurately. What would it look like if that's how we defined mastery?
Making Room for Confusion
As tutors, I think many of us have experienced that tense feeling when our student is trying to figure out a problem…and gets a little confused. This week, Kathy challenged us to change our view on confusion. She challenged us to begin embracing it as a natural sign of learning rather than interpreting it as failed attempt. If we jump to correct or rescue a child from a confusing situation, we could in fact be denying them an opportunity to discover a strategy or relationship on their own.
Thank You, Kathy & Math Perspectives Team! – A Note from Our Executive Director
Several from our team had the privilege of eating dinner with Kathy Richardson and her colleagues. Her passion shines through brightly as she reminded our group of how she began to love teaching math in the first place: it was through seeing what happens to students once they realize that they are good at math. Understanding math and numbers helps students understand some things about themselves – that they count; that they can figure things out; that they are important; and that they have a place in the world.
Over 3,000 Heart Tutoring students to date have benefitted from the powerful (and empowering) one-on-one assessment interviews written by Kathy Richardson and Math Perspectives. What an honor, and what fun, to have her in the Queen City for a week!
– Emily Gaffney, Heart Tutoring Executive Director