Heart Math Tutoring Receives $250,000 Grant from Accelerate and Participates in Tutoring Evaluation Accelerator
May 25, 2023
We are excited to announce that Heart Math Tutoring will receive $250,000 from Accelerate, a national nonprofit working to make high-impact tutoring a standard feature of the American school day!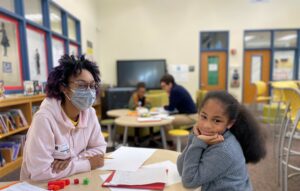 In addition to being a grant recipient, from May to December 2023, Heart Math Tutoring will join a cohort of ten tutoring providers to participate in Accelerate's new Tutoring Evaluation Accelerator (TEA). Partnering with J-PAL North America, Accelerate intends to "support tutoring providers across the United States to implement data-driven programs and generate critical evidence on what works in high-dosage tutoring" (Christie & Sonterblum, 2023).
Heart is excited to be a participant in the TEA to improve practices in the delivery of high-quality tutoring as well as contribute to research on effective tutoring implementation. For more information about the TEA announcement and need for the program, read here. Heart Math Tutoring's press release about the Accelerate grant is here.
Christie, K. & Sonterblum, L. (May 25, 2023). Tutoring Evaluation Accelerator: Building Partnerships to Accelerate Learning. Abdul Latif Jameel Poverty Action Lab. https://www.povertyactionlab.org/blog/5-25-23/tutoring-evaluation-accelerator-building-partnerships-accelerate-learning