Heart Math Tutoring's New Partnership with Winston-Salem/Forsyth County Schools Featured on Local News Station
June 9, 2023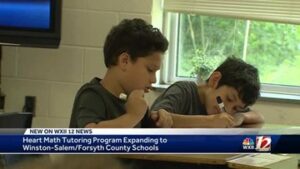 Heart Math Tutoring is excited to be partnering with Winston-Salem/Forsyth County Schools (WS/FCS) for the 2023/24 school year after unanimous approval from the WS/FCS School Board. The new partnership was recently featured on Winston-Salem's WXII 12 News.
WS/FCS K-12 Mathematics Director, Velvet Simington, told WXII 12 that "teachers in WS/FCS work extremely hard every day to deliver high quality and equitable mathematics instruction to all students, but we do know that as a result of the pandemic, we've got some gaps that were exacerbated. So [Heart Math Tutoring] really is an opportunity for us to get some additional support that's very targeted to meet the needs of students."
View the full video and article here.
Volunteers are needed to support 50 students at Bolton Elementary School with building foundational math skills this fall. Sign up to become a tutor today!