How is Virtual Tutoring Going?
December 13, 2021
Emily Gaffney, Executive Director
Students in 10 of Heart Math Tutoring's 23 school sites (43%) gather in a tutoring room and log into Zoom to meet with volunteers who are offsite. The new virtual model reflects a tremendous opportunity to reach more students going forward, tapping into volunteers with time limitations and geographic constraints. But how is it going so far? Hint: it's an upgrade from the virtual model of 2020/21!
Brenda, a UNC Charlotte Education major, comes to Hidden Valley Elementary from 7:45-8:45AM and 1:45-2:45PM Tuesdays and Thursdays with the job of "runner." She walks across campus to retrieve students from class at their designated tutoring time – a job traditionally done by each student's tutor in the in-person tutoring model. Students bring their Chromebooks/iPads and walk with Brenda to the Heart Mobile, a space that Hidden Valley Elementary has dedicated to Heart Math Tutoring during the school day.
There, HMT Program Coordinator Cara Maddox greets students as they find their workspace with their student folders and the HMT math manipulatives kit. Cara carries her laptop and wears an earbud in as she circulates the room. She is supervising both the physical space, getting students logged into their devices, and the virtual space, sending students and volunteers into Zoom breakout rooms to begin their activities on Google Jamboard.
HMT Board Chair Connie Carlson tutors virtually at Cotswold Elementary. "This is not the virtual tutoring of 2020/21, when school facilities were closed and students tuned in from their bedrooms or cars. My students are engaged from the minute they sign on and we have moved productively through many Jamboards, conquered a notebook and have excellent interaction. I feel like the lessons are actually easier and more structured with the aid of the preset Google Jamboard slides. Though I have not had many technical issues, Lauren Hillesheim (HMT Program Coordinator) is able to address any issues swiftly. It has been a wonderful semester!" she says.
Unlike 2020/21, Lauren, Cara, and the other seven HMT Program Coordinators overseeing virtual sites can address technology issues in a matter of seconds compared to remote support. Student attendance, while reaching an impressive 89% in 2020/21, is easier to coordinate from inside the school building than through the texts/calls home employed while school facilities were closed due to COVID-19.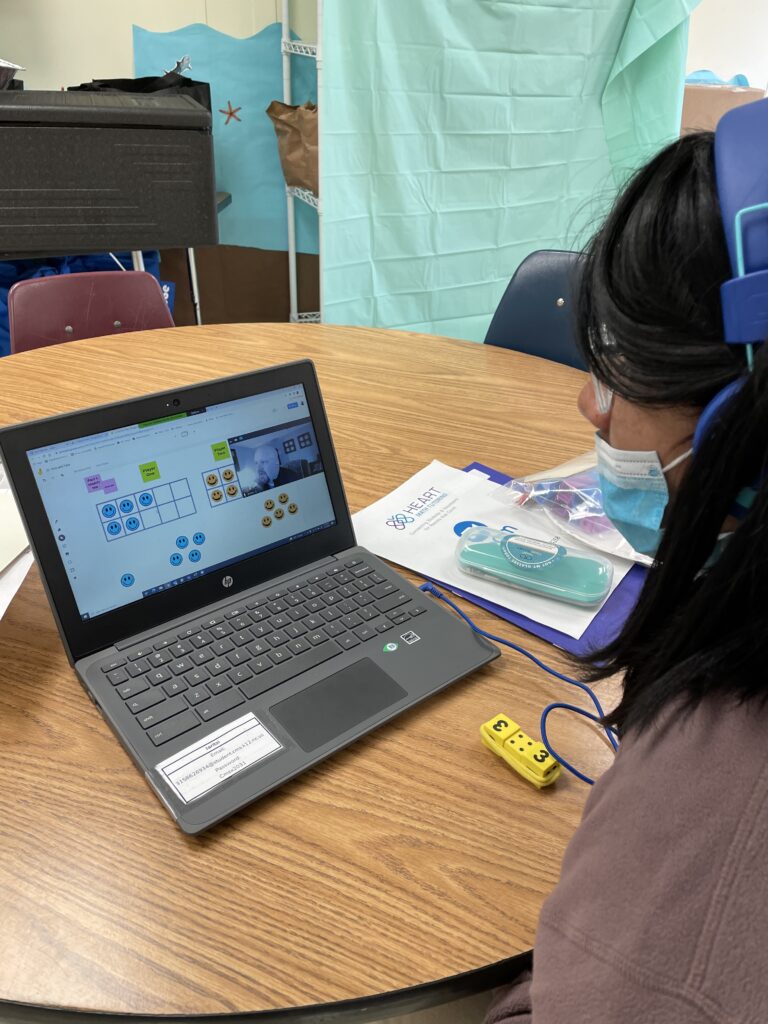 Like 2020/21, volunteers use HMT's lesson plan workbook and HMT's preset slides on Google Jamboard. Students and tutors can turn the pages together and move objects around on the screen in a series of activities during the 30-minute sessions. 1st and 2nd graders benefit from the hands-on touchscreen experience of iPads provided by Charlotte-Mecklenburg Schools as they practice counting objects and comparing numbers. Students in grades 3-5 are provided by CMS with a Chromebook which supports manipulating objects on the screen with a mouse but also allows for typing equations and working with larger numbers.
Students and tutors generally like the model, and we appreciate the healthy dose of patience displayed by all. Behind the scenes, we are working through dozens of kinks. The technology between headphones and Chromebooks has not been seamless, sometimes causing distracting noise for volunteers. The lower adult to student ratio in the tutoring space presents the need for refining student procedures and behavioral norms in January. Tight communication is required between volunteers and Program Coordinators regarding attendance changes to avoid retrieving a student from class on a day a volunteer needs to reschedule. Students are progressing a bit more slowly through the curriculum levels as compared to in-person tutoring, so far, but measurable learning is certainly happening.
With 2.5 months of tutoring down and 4 to go, we will continue iterating quickly and are encouraged that this model will be a key driver of supplying encouragement and academic support to thousands more students going forward in the post-pandemic volunteer landscape.
We encourage volunteers to share their ideas and experience in the upcoming short survey being issued December 13th – 17th or reach out to a staff member anytime. If you would like to become involved as a "runner" at a virtual site (volunteer or paid opportunities), reach out to Emily.Aleski@heartmathtutoring.org.
Virtual tutoring will remain complementary to the effective in-person model, which is currently deployed at 13 of HMT's 23 school partners (57%). As of December 2021, 1,164 volunteers are active as tutors across the program. Additional volunteer signups are welcomed and urgently needed for both models at www.heartmathtutoring.org/become-a-volunteer/#volunteer!