Math Madness (in March)
March 3, 2019
For anyone interested in getting more plugged into the cause around math, education, and/or opportunity, we are keeping math stats and event opportunities coming during the month of March.
Math Matters!
Did you know that math achievement at age 7 is predictive of socioeconomic status at age 42? This is after controlling for IQ, academic motivation, and socioeconomic status at birth. (Ritchie & Bates, Enduring Links From Childhood Mathematics and Reading Achievement to Adult Socioeconomic Status, 2013)
Surprise – not only do school-entry math skills predict later achievement in math, but they ALSO predict later achievement in reading! (Greg Duncan et al, 2007, School Readiness and Later Achievement)
Fill the Gaps…
Only 44% of economically disadvantaged students are on grade level in Grades 3-8 math in Charlotte-Mecklenburg Schools. (2018 NC End of Grade Tests) Research shows targeted experience with numbers can help!
Confidence matters, too. Only 3 in 10 African American students with strong likelihood of success in Advanced Placement math actually take it. Of those who don't, half report lacking the confidence to enroll. (The College Board, 2012)
Learn more in March!
March 6th is International Math Day. Heart Tutoring will appear on Fox 46 around 7:45AM.
March 6th is also the 2nd Annual #CommitTo80 event hosted by Read Charlotte, with Dr. Michael McAfee, President & CEO of PolicyLink as keynote speaker.
March 14th is Pi Day, and representatives from Heart Tutoring will be hitting the town for informal/optional gatherings all day with any tutors, donors, friends, and staff who want to meet. Find out who, when, and where here.
CMS Foundation is hosting Teacher Talks, inspired by TED Talks on Tuesday, March 19th at 5:15PM at McGlohon Theater at Spirit Square.
On March 26th from 8-10AM, Leading on Opportunity Council Co-Chairs James Ford & Andrea Smith will lead a meeting about how we drive economic mobility for all. Plug in for regular updates from this group by joining the Community Impact Alliance.
Executive Director Emily Gaffney bumped into Heart tutor Brad Platt at CMS career fair on 2/23. Brad is recruiting students straight out of high school for Duke Energy's Customer Service and Lineworker career opportunities. Great things can happen if you have math and reading skills!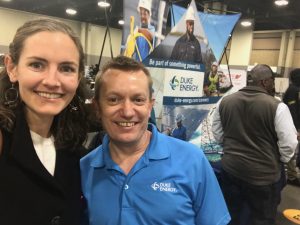 Throwback to Pi Day 2017 at Montclaire Elementary with Wilson's World!!