Meet HMT Program Coordinators Cara Maddox & Heather Smith!
July 20, 2023
HMT Program Coordinators (PCs) are an important part of Heart's program model. PCs are present at every tutoring session at their school and their role is to ensure the delivery of high-quality tutoring by providing support to both students and tutors. We sat down with two of Heart's Program Coordinators, Cara Maddox and Heather Smith, to learn about the PC role and why they love it.
What led you to becoming a Heart Program Coordinator?
Heather: I was a math tutor at J.V. Washam before I took this position. It was through their extended day program and I would tutor 4th and 5th grade students at the end of the school year to prep them for EOGs and I really liked the interaction with the students. Then COVID happened. So, my job was eliminated with COVID, but I still really wanted to interact with the students and give back in that capacity, and that's what led me to Heart.
Cara: I was a teacher for many years; all in elementary school. My favorite subject to teach was math, and I was in and out of teaching when my kids were really small. I didn't want to necessarily get fully back into the classroom, but I wanted to use my educational background and [Heart] was a perfect win-win because it was also math and I wanted to also enter the nonprofit side of the world to get experience there.

"Heather Smith is a great leader of tutors. She has all the answers right when we need them and supplies at our desk before [tutoring]."
-2022/23 HMT Tutor at Blythe Elementary
What does a typical day of a PC look like during the school year?
Heather: We have two tutoring times, an hour each. My first tutoring time was 8 to 9, where I had my first set of tutors come in. [The volunteers] tutor one student for 30 minutes and another student for the second 30 minutes. In between that tutoring session and my second one is when I would do [deliverables]. If we had progress reports due, I would get those done, emails, communicate with the teachers; more behind the scenes work that we have to do. Then I would have my second session.
Cara: The typical day kind of depends on the school placement. My tutoring hours were back-to-back, so I got there by noon and then the tutoring time started at 12:30. So, the first tutoring time was 12:30 to 1:30 and then the second tutoring time was 1:45 to 2:45. [PCs] also have a weekly staff meeting and a weekly check-in with their manager.

"Cara was WONDERFUL to work with and so organized!"
-2022/23 HMT Tutor at Myers Park Traditional Elementary
What would you both say is your favorite part of working with Heart?
Cara: My favorite part of Heart, even though I love math so much, is the community building. I love the relationships that you develop with the students and watching them build confidence where they haven't had it before, watching them light up when they have somebody that shows up for them every week to spend time with them, and also the community building with the tutors. I love the diversity with the tutors. You get tutors from different backgrounds, ages, and races and seeing them, it just fills my heart. You see [tutors] giving their time to somebody else for the better good.
Heather: I would totally agree with all of that, like building the relationship with the tutors as well as with the teachers and the administrative staff at the school. You're all there to support the students. I had a specific student, this little second grader who was very soft spoken with their tutor, and even with me, at the beginning of the year. Then, to hear them laugh, giggle, and shout out and answer by April. For their teacher to come and say, "wow, [the student]is coming to me and asking for math problems now." Just to see the confidence grow with the specific students is very rewarding and very gratifying.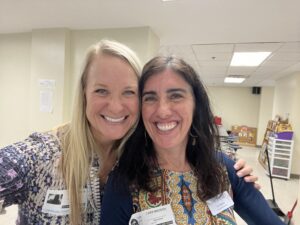 Heart is grateful for Cara and Heather's work as Program Coordinators. During the 2022/23 school year, Heather was the PC at Blythe Elementary and Cara was the PC at Myers Park Traditional Elementary School. Both Heather and Cara plan to return for their third year as PCs in the 2023/24 school year.
If you are interested in becoming a Program Coordinator with Heart Math Tutoring for the 2023/24 school year, learn more and apply at https://heartmathtutoring.org/about-us/team/