Student Spotlight- KIPP Change Academy
February 23, 2023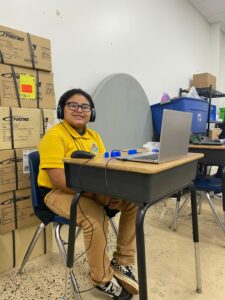 We are shining the spotlight on Heart's wonderful, individual students and their hard work during tutoring! For this edition of Heart's Student Spotlight, we sat down with KIPP Change Academy Student Jack*! Jack is a sports fan and his favorite teams are Manchester United and the Buffalo Bills. He loves his two brothers, his mom, and his dad.
Jack's teacher nominated him to participate in HMT, and he was pre-assessed to determine individual areas of growth before being matched with volunteers, who tutor him virtually during 30-minute sessions twice per week.
Alexa, Heart's Program Manager at KIPP, describes Jack as "a lovely student to work with! He is excited to meet with his tutors every time I pick him up. He works hard and he's built genuine relationships with his tutors, asking them about their lives and talking to them about his."
When it comes to tutoring, Jack says that he and his tutors "play fun games that help me learn" and he describes tutoring as "the most fun." Jack is not the only one that enjoys tutoring; his tutor Justin says, "[Jack] is a joy to work with. He loves the concrete feel of being able to use cubes to solve problems, enjoys explaining his thinking, and frequently extends the problem we are working on with some new insight. I've seen tremendous progress in the year so far and look forward to the rest of our time together."
Jack is currently working with his tutors in Heart's Combinations to 10 concept notebook, the third of Heart's six curriculum notebooks focused on foundational math concepts. Jack likes to write down the problems and use learned strategies when faced with challenging math problems. When asked what he is most proud of, Jack shares, "I am really proud that I am really smart."
Heart is proud to have the opportunity to celebrate Jack and his hard work. Be on the lookout for HMT's next Student Spotlight!
*Name changed for student privacy