Volunteer Spotlight: Recognizing Freedom School Partners
February 1, 2023
At Heart Math Tutoring, we know that supporting Charlotte's youth and providing equitable education opportunities is a community effort. For this reason, we would like to highlight the work of Necole Watts and Alexis Young, two of Heart's volunteer tutors that are employees of our community partner, Freedom School Partners (FSP). Read below to learn more about how Necole and Alexis came to tutor at Heart and how their volunteer experiences support the values and mission of Freedom School Partners.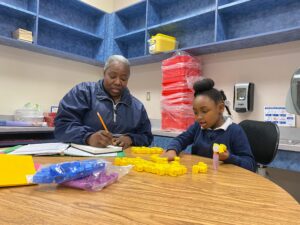 Can you share a bit about the work you do with Freedom School Partners?
Alexis: As the Volunteer Coordinator, I work to get the community connected to our scholars and all of the work we do to prepare for summer in meaningful and intentional ways. I have the privilege of helping others to learn more about the work we do and get them to be a part of the Freedom School Family.
Necole: I work to maintain relationships with and support for Freedom School scholars and families during the school year. Also, I work with FSP staff to build a model of support that will help bridge the "Freedom School loss" that can occur during the school year by building on the impact of scholars and families from summer Freedom School.
How does your work with FSP relate to volunteering with Heart?
Alexis: At Freedom School Partners I have the privilege of working for the amazing scholars and families in our community. Although I love the opportunity to work with scholars for 6 weeks in the summer, I wanted to continue that connection and volunteer at a school that hosts our program in the summer (Highland Renaissance Academy) and that we pull our scholars for our program from to build that connection even further. As a student in school, math was really hard for me, so I am so happy that there are programs such as HMT that are available and make learning math skills fun!
Necole: Volunteering with Heart Math Tutoring allows me to maintain relationships and be a support to [students] academically throughout the year. Also, being a support to our scholar's families.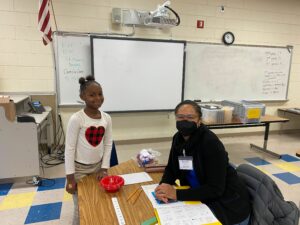 How did you first learn about Heart?
Alexis: I learned about Heart from Necole! She is a long time Heart tutor. The time that she invests into students in our community is truly worthy of imitation.
Necole: I first learned about Heart Math Tutoring through HMT employees who had been a part of previous Freedom School summer programming.
What's something you enjoy about volunteering with Heart?
Alexis: I really enjoy that Heart makes learning math skills fun! Math can be one of those subjects that is very hard for students and can cause them to give up on math. The fact that HMT has made this aspect of learning fun is really wonderful in my opinion. It is what we strive to do at FSP as well. We want to make reading and learning fun, so students continue to be lifelong learners.
Necole: I have enjoyed getting to know new scholars and seeing their growth academically.
What would you say to someone thinking about volunteering for either Heart or Freedom School?
Alexis: If I had the opportunity to speak with them, I would tell them that it is worth every minute to pour into a child. Each of us had a person or people who did that along our journey to help us to get to the point we are today and will help us to move forward to where we want to be tomorrow. Being that person for a child is a privilege and is something that they will not forget.
Necole: I would tell them this is a good opportunity to help someone who possibly would not get help at home. It also gives them an opportunity to get to know someone you probably wouldn't meet if they didn't volunteer.
Alexis: At Heart, it is wonderful that you can choose to focus on one scholar for a 30-minute time frame if you have a busy schedule. At Freedom School Partners we have a wonderful variety of volunteer opportunities that include working one on one with scholars to working behind the scenes at our warehouse to get all supplies and materials ready for summer.
Thank you, Alexis and Necole, for your time and all you do to support Charlotte students! Join them as volunteer tutors for Heart by signing-up here! Interested in volunteering for Freedom School Partners this summer? Find more information here!