Volunteer with Heart: Bill Butler
April 8, 2016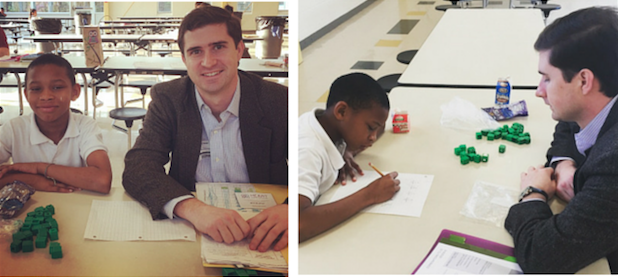 Bill is an attorney at Moore & Van Allen and learned about Heart Math Tutoring through his friend who has been a tutor for several years. His friend spoke about the remarkable progress students make through the tutoring sessions, not only in their math skills but also in their confidence. Bill works with a second grader and a third grader each week at Billingsville Leadership Academy.
Why did you become a volunteer?
"Like a lot of people, I wanted to be invested in the Charlotte community but didn't know where to start. Heart provides an opportunity for someone like me, who doesn't know the first thing about math tutoring, to make a direct impact on a critical area of need."
What was your favorite moment from working with students?
"Definitely playing War, or any other competitive game.  My students really enjoy a little competition, and it is so much fun watching them focused and engaged in developing their math skills to beat me.  And most of the time they do!"
What would you tell someone who is thinking about becoming a volunteer?
"It will be one of the best hours of your week."
Heart is grateful that Bill has chosen to spend an hour each week at Billingsville! Bill's students come bounding down the hall beside him when he picks them up right after breakfast each Thursday morning. They smile the entire time they're together and love sharing stories with him about their school week thus far.
#VolunteerwithHeart
#ItAllAddsUp