Staff Spotlight: Linda Vanderbosch, Program Coordinator at Piney Grove
April 13, 2016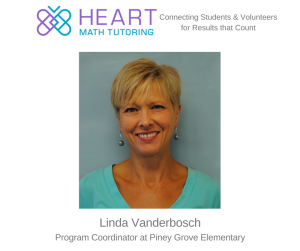 Linda joined Heart Math Tutoring in August 2015 as the Program Coordinator for Piney Grove Elementary. She thoroughly enjoys working for Heart and feels incredibly fortunate to be surrounded daily by such awesome staff members, volunteers and students.
Linda and her husband Phil have two children, Nicole and Zach. Nicole works as a Physician's Assistant and lives in Durham with her husband, Robert.  Zach is working towards a PhD in Astronomy at the University of Texas, Austin.
Linda has over eight years of experience working in nonprofit volunteer engagement and program development as well as nine years of experience in operations and data management with a government contractor. She enjoys working with young people and served as a volunteer youth leader for over six years. Linda has a BA in Business Administration from the University of North Carolina at Charlotte.
Linda believes students will flourish when provided opportunities to be successful in their education.
Here are Linda's answers to our Spotlight questions:
What is your favorite "math moment"? When I participated in a three month Stock Market Challenge (sponsored by CPCC and the Charlotte Observer). I increased my fake investment of $100,000 to $167,000 and placed 25th out of 7,000 contestants! Too bad it wasn't real money!
What is your favorite number? My favorite number is a date: 4/11. This is the month and day my husband and I married. Most of the best events in my life occurred on and after this date!
What is a movie that you would watch over and over again? Forrest Gump – this movie has it all: good, bad and ugly.  Love, friendship and kindness prevail. There is an overall joy for what Forrest has accomplished in life and for how he has positively impacted so many others.