WBTV Features Heart Math Tutoring on QC Morning
August 16, 2023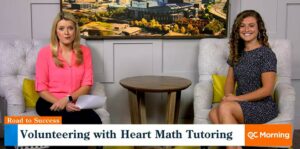 Heart's Director of Volunteer Operations, Padgett Vaughn, was interviewed on WBTV's QC Morning Show about the need for volunteer tutors to support students with building foundational math skills this fall.
Vaughn provided an overview of Heart's volunteer tutor experience: "[Volunteers] choose the school and the one hour a week that'll work for them. We pair them with a student and they work with the same student all year, playing games, building confidence, and helping that student feel more successful!" Watch the full interview here!
1,300 Charlotte students are waiting for volunteer tutors in the 2023/24 school year; sign up to become a tutor today!