2020/21 Program Results
June 17, 2021
We are excited to celebrate the progress made by 515 students in Heart Math Tutoring's first-ever year of fully virtual tutoring! Individualized tutoring is more important than ever in the wake of COVID-19, and we are grateful to all 1,009 of our tutors, as well families, teachers, and donors, for their dedication to supporting students in an unprecedented year.
Here are some results from the 2020/21 program year:
90% of Heart students demonstrated growth or mastery on one or more new HMT concepts.
92% of Heart students' families selected 9 or 10 (on a scale of 1-10) when asked if they would recommend HMT to others.
97% of volunteers rated their experience as positive, and 95% noticed improvement in their students' math skills.
Thank you to everyone who played a role in supporting students this year! We look forward to seeing you all again in the fall. Sign up to tutor here: https://heartmathtutoring.org/volunteers/become-a-volunteer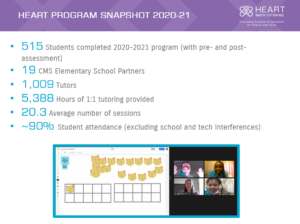 Watch our Annual Celebration to hear more from HMT staff and board members about the 2020/21 program year.