HEART Tutoring Adds "Math" To Name, Changes Logo
April 17, 2015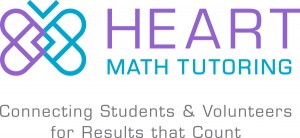 Following feedback from funders, volunteers, and schools, and with a grant from Reemprise Fund, HEART Tutoring completed a branding study in 2014 and will now be "Heart Math Tutoring".
The goal of the branding study was to find a name and image that captures Heart's focus on math and professionalized, measured results while maintaining the warmth of the tutor/student relationship that is core to our work. Heart's team and key stakeholders worked with Wray Ward, a Charlotte-based marketing communications agency beginning last summer. Many thanks to all of our volunteers, schools, and supporters who spent time last summer providing input and guidance!
Charlie Elberson, primary advisor for the Reemprise Fund, a donor advised fund held at Foundation For The Carolinas, explains why working with Heart Math Tutoring on this project fit the Fund's venture philanthropy work. "The Reemprise Fund has a legacy of providing transformative grants to visionary social enterprises. Heart's model for math intervention and volunteer management has tremendous potential to scale in Charlotte and beyond. Looking toward that horizon, the organization needed a brand identity that was a true reflection of its extraordinary premise. This new program will give them an edge, propelling Heart Math Tutoring's marketing for various audiences in years to come."
In Heart's new brand, the colors are updated; the shapes suggest math and geometry; and the subtle image of a butterfly evokes the feelings of growth, change, and transformation that we hope to inspire in our students and in the community. The original acronym has been dropped and a new tagline adapted: "Connecting Students & Volunteers for Results that Count."
We hope you like it!
Special thanks goes to Bellaworks for refreshing Heart's website and to Crystal Dempsey with From The Hip Communications for helping us tell our story with our blog, social media, and email. Most of all, thank you to Reemprise Fund for the grant award to make all of this possible.
We are excited about the way these developments will help Heart bring one-on-one math tutoring to more students in Charlotte.