Volunteer With HEART: Chris Brown
April 15, 2015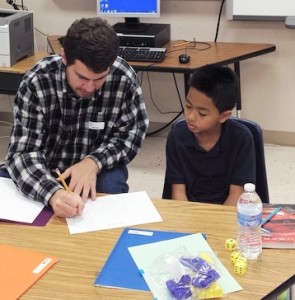 Chris Brown tutors a first grader and a third grader at Highland Renaissance Academy in NoDa. Chris started in September after learning about the opportunity through the Volunteer Portal at Bank of America, where he works. Bank of America is one of our Community Partners.

Why do you volunteer?
"I have always enjoyed volunteering. From talking with friends who work with Teach for America in the Charlotte area, I knew how much help was needed in public schools, especially at the elementary school level. Being able to help students grow and build a foundation in vital early math skills really appealed to me."
What are some of your favorite moments from working with the students?
"There have really been so many, but a couple that stick out include…
"A teacher pulled me aside after standardized test scores came back and showed me the enormous improvement one of the students I work with had made. That was great in itself, but, as we were walking to the tutoring room, the student shared the news with me as well. I could tell how proud and happy he was. It was so awesome to not only see the student improve, but also to see his growing self confidence.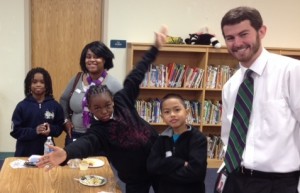 "Heart holds a luncheon before winter break and again at the end of the school year. The luncheon allows the tutors to interact with parents and to celebrate the students' hard work. Both students who I tutor expressed how much they enjoyed spending time outside the classroom with the volunteers and having their parents meet us. A couple months later, one student brought the luncheon up again and told me it was his favorite day of school ever. It really put into perspective how much it means to the kids for the volunteers to take a couple hours out of the work week to help them and to spend some time talking with them."

What would you tell someone who is thinking about becoming a volunteer?
Do not hesitate and just go for it! At first, I wasn't sure what to expect since I probably hadn't worked with elementary school students since I was in elementary school. I have personally gotten more out of it than I ever expected. It not only provides a great break for a couple hours a week from whatever is going on in the office, but it is more impactful than you know. Every week I look forward to seeing the kids I work with, and I never leave the school without a smile on my face.
Want to volunteer with HEART Tutoring?
HEART will need more volunteers for the 2015/2016 school year! With a commitment of one hour per week, community members can help a struggling student gain the skills and confidence he/she needs for long-term success. Click here to express your interest!