Heart Math Tutoring Happenings!
August 19, 2021
Want to get involved with Heart Math Tutoring?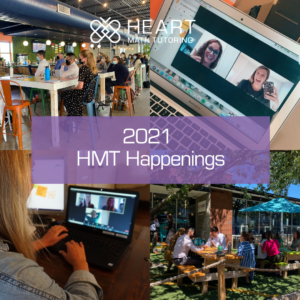 We have a series of upcoming events for prospective and existing tutors to connect and learn more about Heart Math Tutoring (HMT). Event descriptions are below. We can't wait to reconnect with you!
HMT Virtual Information Sessions 9/1 from 12:00-12:30 PM and 9/14 from 9:00-9:30 AM
HMT is hosting a series of virtual information sessions to provide an opportunity for prospective tutors to hear more about our program before signing up to become a tutor. We will explain the program models for the 2021/22 school year and how you can make a huge impact for students in just one hour a week! There will also be time to answer any questions that you may have.
HMT: Let's Get Reconnected Event 9/9 from 4:00-6:30 PM
We have spent too much time reconnecting to the internet in the past year, we are ready to reconnect with you in person! HMT is hosting an event for current tutors and prospective tutors on Thursday, September 9 at the Salty Parrot Brewing Company (1200 S. Graham St., Charlotte, NC 28203.) Stop by any time between 4:00-6:30 PM to reconnect with other tutors, enjoy a craft beer, and talk to HMT staff about tutoring in the upcoming school year. Don't forget to bring a friend who might be interested in becoming a tutor; we can't wait to see you there! (We plan for this to be a primarily outdoor event, so if the weather does not cooperate, our rain date is 9/10).
Click here to RSVP!