Recruitment Season Tips
July 10, 2019
Are you a current tutor who is looking for ways to spread the word about the amazing experience you have had working with Heart Math Tutoring? GREAT! But, before you keep reading, make sure you are signed up for next year too!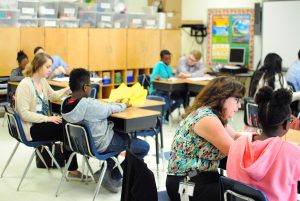 Now, let's get down to recruiting business! Here at Heart Tutoring, we are always trying to expand our services to more schools and students, but we need your help. Check out the tips below and our Recruitment Kit for how you can spread the word and help us recruit new tutors.
Utilize Social Media
Be a Heart Tutoring cheerleader through your social media channels. It is a great way to share your story with the masses and provide an easy call-to-action for your friends and followers.
Consider sharing your "why," telling a personal story from a day of tutoring or, if your friends are more analytical, sharing the cold, hard stats.
Social posts perform better with photos, so head over to our social channels if you need to borrow one. And don't forget to tag us!
Instagram | Facebook | Twitter
Host a Lunch N' Learn
Gather interested tutors from your company, book club, bible study or neighborhood for a learning session with a Heart Tutoring representative. We'll be there to describe the program, answer questions and take sign-ups.
Email us at volunteer@hearttutoring.org to set up a date.
Spread the Word
Add a call-to-action to your email signature, voicemail message or business card. These subtle mentions can strike up a new conversation or be gentle reminders for people to click "become a volunteer."
The more they see and hear about the program, the more likely they are to sign-up.
Invite them to an Event
Webinars
This summer and fall we are hosting a series of webinars chock full of great information about being part of our program. There will be everything from a general info session to hearing from a current Heart tutor.
August 28 | September 10 | October 3
Each session will run from 1:00-1:45 PM. Sign up here.
Summer Party
Invite potential tutors to join us (no pressure!) and come to network with existing tutors at our laid-back summer gathering.
Tuesday, July 30 at 6 PM | Unknown Brewing
Additional tips, wording suggestions and more can be found in our downloadable Recruitment Kit.
Have other ideas of how we can grow our tutoring ranks? Shoot us an email or a DM of how we can help!