Volunteer With HEART: Jeanette Price
April 7, 2015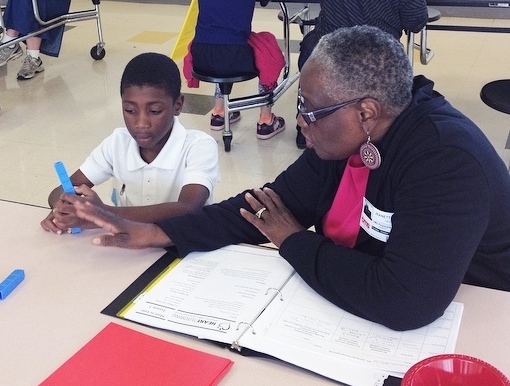 Jeanette Price is a veteran volunteer and proctor with Charlotte-Mecklenburg Schools. She is part of the National Alumnae Association for West Charlotte High School.
While Jeanette was at Alexander Graham Middle School with the after-school program Bulldogs Matter, she was asked to help students with math homework. She was a little uncomfortable at first because, she said, the subject was "not her strong suit," but she saw a need for extra support. A sixth grade girl at Bulldog Matters explained how they were being taught in the classroom, and Price became more ease with tutoring the subject.
She learned about HEART four years ago and thought it would be a good way to keep working with children and continue learning about math education. Her first school was Rama Road, working with two third graders. When HEART moved from Rama Road, Jeanette followed the program to Billingsville Elementary where she works with two second graders. "The students are eager to come to HEART when you go to their classroom to pick them up," she said.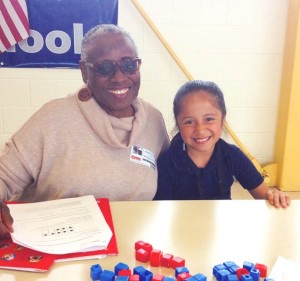 How and why did you become a volunteer with HEART?
"I have a passion for children and felt HEART Tutoring would be an excellent opportunity to share my time with elementary students in a math program. This has been a great experience for me."
What are some of your favorite moments from working with the students?
"I am delighted to see smiles and happiness as they gain confidence and achieve math concept goals and activities on a particular lesson. There have been times when my student asks me to have 'Ms. Padgett,' a HEART Program Coordinator, do their assessment when they feel they are ready to move to another level. There was a time when I was absent and they asked, 'Where were you last week?' I feel I am having a positive influence on their learning experience."
What would you tell someone who is thinking about becoming a volunteer?
"It's the best hour spent – on Thursdays at Billingsville. I have two second graders who are excited about learning math and love having the one-on-one attention. They are my little friends whom I enjoy working with and giving encouragement so that they will have a positive attitude about math. The program is fun and uses games to support thinking and learning math skills. I love using all the visual aids: connecting cubes, deck of cards, ten frames cards, domino cards, bowls and, of course, pencil and paper. A Program Coordinator is on site at each session with your materials and ready to assist."
Want to volunteer?
Heart will need more volunteers for the 2015/2016 school year! With a commitment of one hour per week, community members can help a struggling student gain the skills and confidence he/she needs for long-term success. Click here to express your interest!