Volunteer with Heart: Amelia McGriff-Henderson
April 15, 2016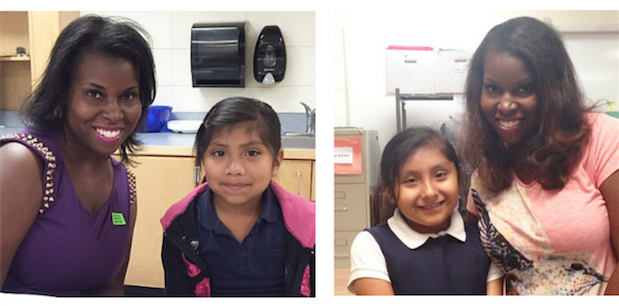 Amelia McGriff-Henderson, Executive Producer at WCCB Charlotte, believes Heart students not only learn essential math skills but gain from weekly mentorship. She learned about Heart through Hands on Charlotte and has worked with the program for three years. Currently, Amelia works with a first and a second grader at Winterfield Elementary School.
What was your favorite moment from working with students?
"One of my students looked up at me and smiled when I told her she was ready to move on into a new curriculum notebook. She said: 'I'm the smartest person in the world because of you Ms. Amelia. I'm even smarter than you now.'"
What is one thing you and your students have in common?
"My students and I love pink, purple and EVERYTHING girly."
What would you tell someone who is thinking about becoming a volunteer?
"Heart is only an hour commitment, but in that small time frame you have a huge impact with the kids in the classroom and socially."
Why did you become a tutor?
"My faith leads me to believe we should be active participants in the world around us. The world would be a better place if we all looked outside of ourselves and helped our fellow brothers and sisters."
Both of Amelia's students have made great progress this year. Amelia's 1st grade student started the year learning to count accurately, and she is now learning to add and subtract up to 20 – grade level material! She loves reviewing her progress with Amelia every Thursday when she comes to tutoring. Her students love how glamorous Amelia looks when she comes from work in a dress and heels. Heart is so thankful to have had Amelia as a tutor for three years!