Volunteers With Heart: Jim, Denise and Walker Ratchford
April 29, 2015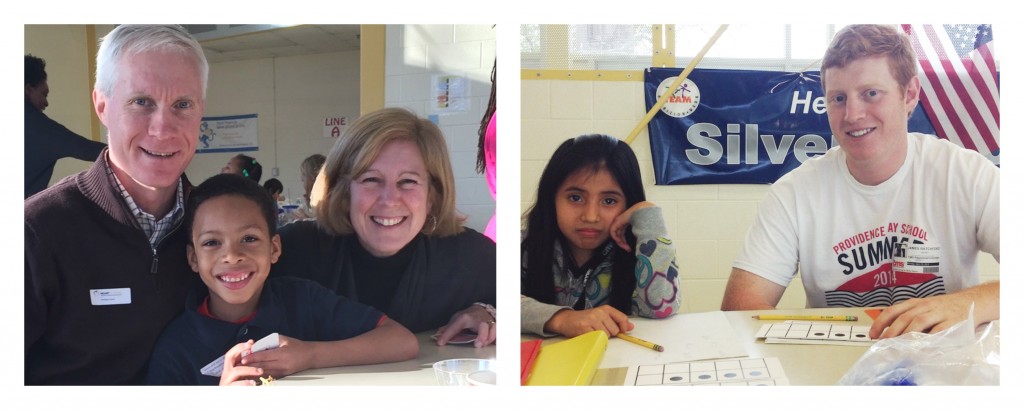 Volunteering with Heart Math Tutoring is a family affair for The Ratchfords. Denise and Jim Ratchford are members of Social Venture Partners Charlotte, which helped launch Heart in 2010, and alumni of Wake Forest University. The husband and wife became partner-tutors last fall at Billingsville Leadership Academy, where they tutor two second grade students on Mondays (Denise) and Wednesdays (Jim) at lunchtime. Their son Walker, a full-time student at UNC Charlotte, started in January, "after hearing us talk about how much we enjoyed it," said Denise.
Why do you all volunteer?
"We all love to work with children and believe that early intervention and one-on-one teaching pay big dividends in a child's education."
What are some of your favorite moments from working with the students?
"We play card games to reinforce the math skills the children are learning, and some of my favorite moments are when competitive natures come out. They forget they are learning and working but just want to win! Also, it's great when you've built a relationship with a child and they share stories about their families and what's going on in their lives. There's a level of comfort there, and real learning can begin when they're at ease."
What would you tell someone who is thinking about becoming a volunteer?
"Heart makes it so easy for volunteers to tutor. They have all the materials for you, and the lessons are easy to understand. It's so rewarding to invest in another person. As the children progress, they are so proud of themselves, and it's great to observe that and be a part of it. With a firm foundation, there's no telling how far they'll go!"
***
Thank you to the Ratchfords for their dedication to students at Billingsville! At Billingsville 74 weekly volunteers are helping more than 60 Heart students in grades 1- 5 gain foundational math skills and enthusiasm towards academics.
Want to volunteer?
Heart Math Tutoring will need more volunteers for the 2015/2016 school year! With a commitment of one hour per week, community members can help a struggling student gain the skills and confidence he/she needs for long-term success. Click here to see times/locations and express your interest!