Tutor Spotlight – Kelsey Noonan
July 30, 2021
Kelsey Noonan is about to begin her fourth year as a Heart tutor! She spoke with us to share her experience tutoring students, both in-person and virtually due to COVID-19.
Q: How did you get involved with Heart Math Tutoring?
I heard about Heart [Math Tutoring] through one of my coworkers at PWC. Her husband initially got involved through his position at Bank of America, she decided to tutor as well. She shared the opportunity with the rest of the team; she spoke very highly of how organized the program is, and how important the work is that [HMT] is doing. My team members and I were looking for ways to get involved in the schools, and it seemed like the perfect fit! I signed up to tutor that year and have been coming back ever since.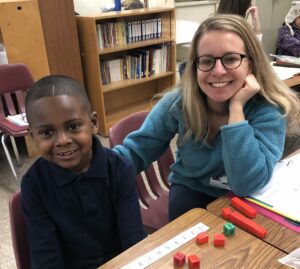 Q: How does your tutor experience impact other parts of your life?
While I work for PWC, they have loaned out my time to work full-time on a national task force focusing on DEI (Diversity, Equity, and Inclusion), and my experience as a Heart tutor was one of the main reasons I was interested in joining this initiative. I moved back to Charlotte after college and contrasting HMT students' experiences with my own was really eye opening. There are students who have so many different challenges to overcome. So now my job focuses on policies such as childcare, medical care, etc., to increase equity and help improve peoples' life situations. Putting a face to an issue helps people care about it, so it's cool to me the way Heart [Math Tutoring] takes a partnership approach with companies. Yes, it helps HMT recruit more volunteers to serve students, but it also provides an eye-opening experience for the tutors and changes the hearts of people who can make a difference.
Q: What is your favorite or the most rewarding part of being a tutor?
Heart does a great job of educating tutors about why we're doing this, and how critical thinking and math skills flow into the overall education experience. Seeing the work we do as tutors trickle into personal growth is really exciting to see. At my company we have a lot of fresh college grads, and I love seeing them volunteer and then come into work meetings talking about their tutoring sessions and seeing them personally grow from the experience. If they aren't from Charlotte, it's a great way to get involved in the community, and even if they grew up here, there's a good chance the students they are working with have a much different life experience from their own, which can provide a valuable perspective.
Q: Outside of math, how have you seen your students grow/change/learn/develop?
In my second year as a tutor, I worked with student who was an English language learner. It was awesome to see that as her language skills progressed, it was like the math naturally flowed. She already had the family support, she just needed help practicing her math and understanding the problems in English. Her confidence grew dramatically, and she felt able to express and explain her thoughts in English by the end of the year which was amazing to see.
Q: How your virtual tutoring experience?
Tutoring virtually was great in some ways and challenging in others. The flexibility was nice because I could just jump onto my computer and see my students. HMT did such a great job pivoting and creating a virtual program; it felt like tutors and students were really prepared to use technology, and students could still learn and show a meaningful progression. What I missed most during virtual tutoring was the level of connection you get in person, getting out of the office, being with the kids, and being able to physically give my students high fives. Another benefit of in-person tutoring is that it was nice to see other tutors – it was always amazing to me to see the diversity of people who volunteer as tutors. I saw stay-at-home moms and retirees, as well as full-time professionals. We come from all walks of life!
Q: Anything else you want the world to know about Heart?
It is so organized, so easy, and you do not need any experience to be able to tutor. You don't need to be a "math person" or an accountant; all you need is to read directions and work with a student. I highly recommend it – tutoring will benefit you just as much, if not more than, it benefits the student. I have seen growth in my students, and it really does feel like the time is spent well. I also tell people that I've had both challenging students and easy students, and I keep coming back each year because I always feel supported by HMT.
Thank you for your dedication to helping students, Kelsey!
Interested in joining as a Heart tutor? Sign up today!