Blog
05.25.2023
We are excited to announce that Heart Math Tutoring will receive $250,000 from Accelerate, a national nonprofit working to make high-impact tutoring a standard feature of the American school day!
In addition to being a grant recipient, from May to December 2023, Heart Math Tutoring will join a cohort of ten tutoring providers to participate in Accelerate's new Tutoring Evaluation Accelerator (TEA). Partnering with J-PAL North America, Accelerate intends to "support tutoring providers across the United States to implement data-driven programs and generate … continue reading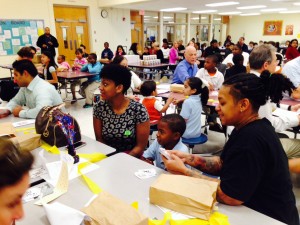 05.09.2014
We had such a blast last Friday hosting students, tutors, and parents for an end-of-year breakfast!  Parents and tutors joined to celebrate students' progress in HEART and practice more math with a ...
The five nonprofits in the Helmet of Hope competition got to meet Jimmie Johnson and Mike Wells via google hangout this morning.  I found myself overflowing with gratitude for the leadership they sho...

05.02.2014
       JIMMIE JOHNSON FOUNDATION ANNOUNCES WINNERS OF THE BLUE BUNNY HELMET OF HOPE CHARLOTTE, N.C. (May 2, 2014) --- The Jimmie Johnson Foundation announced today the five winners of t...

04.17.2014
4-17-14 BBHOH SEMIFINALIST Release Charlotte, NC (April 17, 2014) --- The Jimmie Johnson Foundation announced today that HEART Tutoring is one of the 10 semi-finalists eligible for a $...
04.10.2014
Dear HEART Tutors, There are only two more weeks of tutoring left; it has been a great year. Thank you for the encouragement and math skills you have provided and continue to provide to your s...